CMAS Advanced Trimix Diver
De CMAS Advanced Trimix Diver cursus leid je op in het maken van Trimix duiken naar 100 meter. Waarbij er gebruik wordt gemaakt van Trimix mengsels met minder als 17% zuurstof. Ook bij TDI heet deze cursus Advanced Trimix. De eisen van TDI en CMAS liggen zo dicht bij elkaar. Dat na het volgen van deze cursus het TDI ook aangevraagd kan worden.
Wat ga ik leren in de CMAS Advanced Trimix cursus?
Het maken van een gasplanning gebaseerd op Equivalent Narcotic Depth, stikstof en helium opname en afgifte, CNS en OTU limieten,HPNS, Isobaric counter diffusion, hoeveelheid beschikbaar gas etc.
Welke Decompressie gassen kies je
Tabellen en software
Veiligheidsplannen indien er te lang, diep gedoken wordt. Of bij materiaal storing
Welke materialen kies je
Pre-dive checks and Drills
Het volgen van een Decompressieschema
Gas Switching
Team communicatie
Oplaten van een SMB
Goede trimvaardigheden en zwemtechnieken
Omgang met meerdere stages, minimaal drie stuks
Wat te doen bij Gas Loss, overgeslagen Deco, bewusteloze duiker etc.
Flessen analyseren en labellen
Waar moet ik aan voldoen?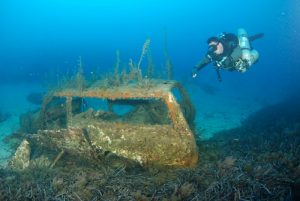 *CMAS Trimix brevet of gelijkwaardig
* Ten minste 18 jaar oud zijn
*Minstens 100 duiken gelogd hebben, waarvan 25 dieper als 30 meter
Wat is inbegrepen?
Advanced trimix cursusboek
Certificering indien geslaagd
De cursus bestaat uit minimaal 4 duiken(reken op meer)
Wat is niet inbegrepen
Je eigen gassen trimix en nitrox
Entree tot de duiklokatie , kan ook een boot zijn
En de huur van duikmateriaal
Prijs
De prijs voor een CMAS Advanced Trimix Diver cursus is 825 euro
Deze opleiding is perfect om als combi te doen met de TDI Advanced Trimix cursus