PADI Enriched Air Diver is het Nitrox brevet. In de Open Water opleiding moesten we al door gebruik te maken van een RDP of duikcomputer onze stikstofverzadiging in de gaten houden. Als er dus minder stikstof in je ademlucht zit. Kun je langer duiken. Of je hersteltijd na de vorige duik is korter. Met lucht naar 16 meter geeft je een duiktijd van 72 minuten. Met Nitrox 32 mag je daar al 130 minuten blijven. En met Nitrox 36 maar liefst 185 minuten.
Wat ga ik leren in de PADI ENRICHED AIR DIVER Cursus?
*Het analyseren van een Nitrox mengsel
*Het plannen van je Nitrox duik en je computer instellen voor het juiste mengsel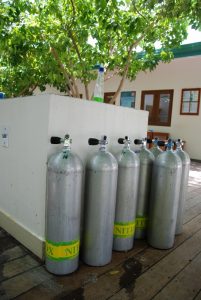 *Maar ook bekend worden met de risico's van duiken met Nitrox
Waar moet ik aan voldoen?
*Je hebt je Open Water Diver brevet (hoeft niet van PADI te zijn)
* je bent minstens 12 jaar oud
* je hebt geen medische bezwaren of gekeurd door een arts
Wat is inbegrepen?
De PADI Enriched Air Diver Manual
Gebruik van de analysor
We doen deze specialty inclusief de DVD
De certificering, indien je geslaagd bent
Wat is niet inbegrepen?
Eventuele materiaal huur, zoals een duikfles gevuld met Nitrox
De flesvullingen (nitrox is iets duurder)
Eventueel entree tot de duiklokatie
Prijs
De prijs voor een  PADI Enriched Air Diver Specialty is 125 euro. Aangezien je er officieel geen duiken bij hoeft te maken, is deze cursus ideaal te combineren met een andere opleiding of specialty