Waarschijnlijk heb je al veel mooie foto's gezien met wrakken erop. Soms is in een opslag duidelijk wat voor wrak het is. Een klein vliegtuigje. Maar soms is het wrak wel zo groot als een olietanker. Of misschien wel zo erg verwrongen door een explosie dat het niet meer als wrak te herkennen is. Des te belangrijker dat je leert de gevaren te herkennen. En om veilig om en eventueel in het wrak te navigeren.
Wat ga ik leren in de PADI Wreck Diver Cursus?
*Hoe navigeer ik veilig in en om het wrak
*Hoe onderzoek en documenteer je zo een wrak
*Het gebruik van een reel met lijn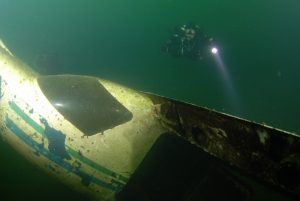 *Zwemtechnieken om het zicht niet te verstoren. En om zodoende ook niks te beschadigen
Waar moet ik aan voldoen?
*Je hebt je Advanced Open Water Diver brevet (hoeft niet van PADI te zijn)
* je bent minstens 15 jaar oud
* je hebt geen medische bezwaren of gekeurd door een arts
Wat is inbegrepen?
De PADI wreck Diver Manual
De cursus bestaat uit minimaal 4 duiken
De certificering, indien je geslaagd bent
Gebruik van een reel
Wat is niet inbegrepen?
Eventuele materiaal huur, zoals een grotere duikfles
De flesvullingen
Eventueel entree tot de duiklokatie
Prijs
De prijs voor een  PADI Wreck Diver Specialty is 199 euro