Decostop is een duikschool die hoog inzet op kwaliteit en veiligheid. Je kunt hier terecht om het duiken te leren. Of om je verder te specialiseren in het duiken. Zoals het duiken met Trimix en rebreather. Ook bieden we meerdere keren per jaar diverse  grotduikopleiding aan.
Decostop bestaat al sinds 2005. Dat wat we overbrengen komt ook vanuit de praktijk.
Wij maken dan ook daadwerkelijk deze duiken. Naast de vele opleidingsduiken gaan we met grote regelmaat op pad om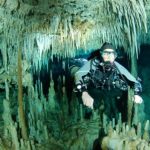 uitdagende duiktrips te maken.
Vaak nodigen we dan eerdere cursisten uit om mee te gaan en ervaring op te doen. Bij ons houd de cursus niet op na de laatste duik.
Decostop is mede opgericht door Jorg van Bladel. (rechts)
Met bijna 25 jaar duik ervaring, waarvan al 20 jaar in het "technisch" duiken
ondersteund hij de instructeur met lesgeven als Technical supervisor.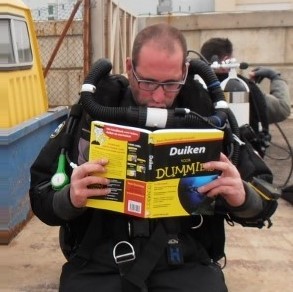 Met ingang van 2017 staat Jeroen Bijmans (links) mede aan het roer van Decostop. Na 25 duik jaren en meerdere jaren beroepsmatig werkzaam geweest te zijn in de duikindustrie is het nu tijd voor hem om op eigen benen te staan. En ondanks dat hij zelfs trainingen heeft gedaan met speciale eenheden , begrijpt hij nog steeds de spanning  van het eerste keer onderwater ademen. Een korte omschrijving van de verschillende cursussen vindt u in onze keuzebalk. Heeft u vragen of is iets niet duidelijk? We staan u graag te woord.
Happy bubbels!