Meer uit je duiken halen! Duiken met verrijkte luchtmengsels en voorbij de nultijden van je duiktabel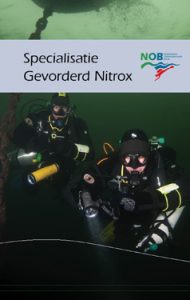 of duikcomputer. Decogassen van 50 tot 100%. Langer op dat spectaculaire wrak met een enorme variatie aan onderwaterleven duiken, overal waar je kijkt zie je leven. En je zorgvuldig geplande duik maakt het mogelijk langer te genieten van al dat moois dan als je zou duiken binnen de nultijden met een regulier ademgas.
Dat is duiken met de kennis en vaardigheden die je leert in de NOB-opleiding Gevorderd Nitrox. Kennis over EAD, UPTD, OCA en configuratie van je duikuitrusting. Vaardigheden zoals een valve shutdown, share air, verplaatsen van een stage, gas switch en het oplaten van een decoballon. Verder leer je over het plannen van een decompressieduik met de NOB-duikplanner en GAP software. Je gaat uitgebreid in op in Oxygen Service en Oxygen Compatible.
Decompressieduiken met verrijkte luchtmengsels is een interessante en uitdagende vorm van sportduiken die je duikmogelijkheden in Nederland en buitenland aanzienlijk vergroot.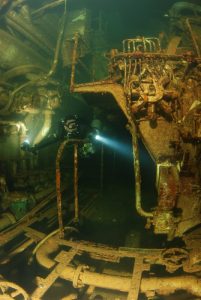 Leerdoelen
De cursist leert de kennis en vaardigheden aan om te duiken met verrijkte luchtmengsels (van tenminste 22% en ten hoogste 40%) en voorbij de nultijden van de duiktabel of duikcomputer met decogassen (zuurstofpercentages van 50% tot 100%).
Ingangsniveau
– 3* duikbrevet
– Nitroxduiker
– Specialisatie decompressieduiken