Vraag een beetje duiker wat hij of zij de leukste cursus vond. En waarschijnlijk is het antwoord de Rescue Diver cursus. Niet dat je na deze cursus ineens iets extra's mag zoals dieper duiken. Maar je vertrouwen neemt wel sterk toe. We trainen niet alleen je zelf redzaamheid. Maar ook hoe je andere duikers kunt helpen. En dat gaat van het hebben van kramp tot aan het vinden van een bewusteloze duiker onder water.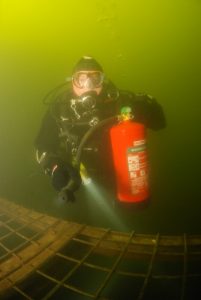 Uiteraard kun je iemand pas echt goed helpen indien je ook iets weet van EHBO en Reanimatie. Bij PADI zitten deze onderdelen in de EFR cursus. De Emergency First Responder cursus. Deze is 24 maanden geldig. En dient dus ook gevolgd te zijn in de afgelopen 24 maanden.
Inbegrepen in de cursus is:
Het Lesboek: je zult hier veel uit leren en later nog het een en ander in kunnen nakijken.
DVD: je lesboek is mooi vormgegeven met heel veel foto's. Maar met een film is het zoveel duidelijker. En je mag de DVD na de cursus houden.
Accident Management Slate: Oftewel een kunststof leitje waar aan een kant een stroomschema staat, wat de doen als. En aan de andere kant kunt je gegevens over het slachtoffer noteren.
Pocket masker: Tijdens de EFR cursus kom je er al achter hoe fijn het is om te werken met een pocketmasker. Bij ons is hij inclusieve.
Certificering: Met deze Card op zak stap je vol vertrouwen een duikcentrum binnen. Jou maken ze niet veel meer wijs. Je bent per slot van rekening Rescue Diver
Wat is niet inbegrepen:
De duikspullen: Misschien heb je al je duikspullen. Of pas een klein gedeelte. Geen nood tijdens de cursus zijn ze tegen schappelijke tarieven te huur.
Prijs: voor de Rescue Diver cursus inclusief het luxe lespakket is 299 euro. Heb je geen geldig EFR brevet. Geen nood. Dan doen we in twee weekenden zowel de Rescue als het EFR.